Sustainable Urban Development and Liveability. How can Melbourne Retain its title as the World's Most Liveable City and Strive for Sustainability at the Same Time?
Abstract
Melbourne is a sprawling city of 4.25 million people dispersed, end to end, across a distance of approximately 100 km. The population is growing by 2000 each week. The
spread of urbanisation results in the transport task of moving people and goods representing the second largest of the City's Greenhouse gas emissions behind stationary energy generation. If the City is to approach a sustainable transport system it cannot continue in this vein.
This surging population is placing considerable strains on the City's infrastructure. A lag in urban planning and investment in infrastructure is resulting in substantial traffic congestion
on freeways, city access points and major arterial roads. The public transport system is overcrowded at peak periods. This population growth pressure is also reflected in other
areas such as social and health aspects where, for example, long delays can be experienced at hospital emergency wards. Amid the backdrop of these stresses and strains, Melbourne
consistently rates highly as one of the World's Most Liveable Cities– usually in the top three. Melbourne again was crowned the title of the World's Most Liveable City in 2013.
Melbourne is a young city by world standards yet has a proud history developed by its forefathers in planning such attributes as large areas of parkland, pure and fresh water
supply, clean air etc. This paper examines these issues in the light of sustainability and liveability. Can the two attributes learn from each other or are they in conflict for modern
urbanisations? Is Melbourne growing too quickly? While yet not a megacity along the scale of Tokyo, Beijing or London, it will be in the future and failure to plan for that scenario
will have greater detrimental effects than recently being experienced. Right across the world, megacities are magnets drawing rural populations to the urban centres. The paper also investigates this phenomenon in the light of the sustainability of future urbanisation in contrast to possible alternative urbanisation of towns and smaller settlements around large regional centres. The concept of satellite urbanisation could be applied to Melbourne to relieve the growth pressures on the city and revitalise rural areas
many of which are experiencing economic and population decline.
Key words: liveability, sustainable urbanisation, mobility, greenhouse gas emissions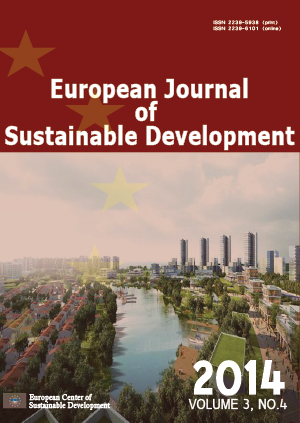 Downloads
How to Cite
Horan, E., Craven, J., & Goulding, R. (2014). Sustainable Urban Development and Liveability. How can Melbourne Retain its title as the World's Most Liveable City and Strive for Sustainability at the Same Time?. European Journal of Sustainable Development, 3(4), 61. https://doi.org/10.14207/ejsd.2014.v3n4p61