Influence of a Small Hydroelectric Power Station on the River Ecosystem.
Abstract
To assess the effects of the Small Hydroelectric Power Station (SHP) on the fluvial ecosystem, some environmental values are required to measure. This work provides a
characterization of the water quality status in a river stretch around a SHP plant on river Mandeo, (NW Spain), for three years after its construction. The ecological and chemical
status of the water and the ecological quality of the riparian habitat was analyzed and comparing with the water quality requirements. The results showed that there were not
significant differences between sampling points (before and after of the plant), as well as a stabilization of the parameters within two years after the construction of the Station,
achieving conditions ecologically compatible. We concluded that the construction of the SHP plant caused an adverse effect in the ecosystem, which was subsequently improved.
Highly positive results from the point of view of their contribution as a source of renewable energy.
Keywords: Biological index, physicochemical, SHP plant, riparian forest quality index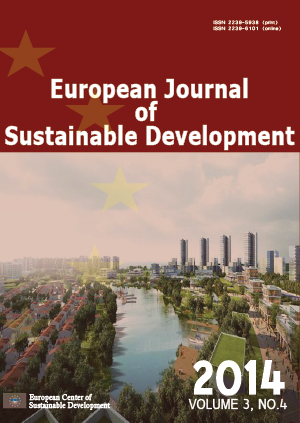 Downloads
How to Cite
Valero, E., Álvarez, X., & Picos, J. (2014). Influence of a Small Hydroelectric Power Station on the River Ecosystem. European Journal of Sustainable Development, 3(4), 175. https://doi.org/10.14207/ejsd.2014.v3n4p175