Geotechnical Field and Laboratory Investigation Procedures Pertinent to the Development of Commercial On-Shore Wind Farms in Ireland
Abstract
In the last decade, both the Irish landscape and construction industry has seen a dramatic increase in the number of commercial on-shore wind farm developments. Geotechnical
field and laboratory based testing procedures play a critical role in the development, design and construction of wind farms. A comprehensive knowledge of the ground conditions
and soil parameters prevailing across the development footprint are necessary to facilitate a site specific infrastructure and turbine foundation design; therefore, reducing associated construction risks and ensuring that an economic construction programme can be premeditated. This paper presents some geotechnical field and laboratory based
procedures pertinent to both the development and design of commercial on-shore wind farms in Ireland. The various procedures are compared in terms of suitability of the test
procedure for the soil type encountered and geotechnical design soil parameters derived. Although each geotechnical site investigation scheme is both an iterative and unique
process, a phased approach relating to a rough peat moor land typically encountered across wind farm sites in Ireland is presented.
Keywords: Renewable Energy, Geotechnical, Site Investigation.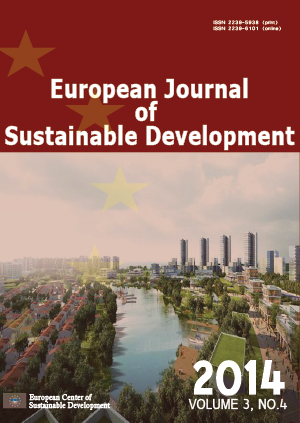 Downloads
How to Cite
E. Quille, M. (2014). Geotechnical Field and Laboratory Investigation Procedures Pertinent to the Development of Commercial On-Shore Wind Farms in Ireland. European Journal of Sustainable Development, 3(4), 199. https://doi.org/10.14207/ejsd.2014.v3n4p199