Environmental Ethics Education as a Tool for the Prevention of Environmental Problems in the Community
Abstract
Today environmental problems have reached very important and serious levels. Destroyed nature and contaminated earth by people day to day reveals this reality in the best way. People are responsible for the creation of this negative picture. However, people are dependent on their
environment for living like all other creatures and also helpless against the environmental problems caused by themselves. Deterrent laws and fines are also inadequate for the prevention of environmental problems. People need to be conscious about the environment more than
anything else. In this respect environmental ethics education will be able to guide them. The community members, becoming more conscious by environmental ethics education can question their relationship with the environment again and behave more environmentally friendly. For sustainability in the earth, people should learn how to behave ethically towards other creatures and nature. With this theoretical study, the importance of environmental ethics education for the
community within the context of non-formal education will be discussed.
Key Words: Environmental Ethics Education, Community, Sustainability, Environmental  Consciousness, Non-formal Education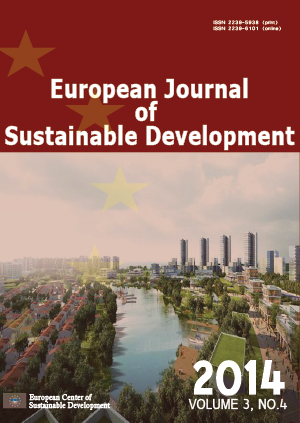 Downloads
How to Cite
KARATAŞ, A. (2014). Environmental Ethics Education as a Tool for the Prevention of Environmental Problems in the Community. European Journal of Sustainable Development, 3(4), 263. https://doi.org/10.14207/ejsd.2014.v3n4p263