Managing Refurbishment Projects Through Selection of Procurement System: The Case of Malaysia
Abstract
The type of procurement method determines how the project would be managed. This is because project uncertainty could be found in the way that projects are awarded and how
the construction project is managed into a system of contract. Procurement methods also influenced the time performance of construction projects. Time would be affected by the
flow of project that was driven by different type of procurement method. However, it's still inconclusive to what extent that different types of procurement systems could affect the performance of refurbishment projects. This study conducted to identify types of procurement methods used in Malaysian refurbishment projects and what are the
problems and difficulties encountered by contractor using different types of procurement systems. On top of that, the study also would examine relationship between challenges
encountered by contractors using different types of procurements towards refurbishment projects performance. Triangulation technique was used in the study. 316 sets of closedended questionnaires were obtained from targeted respondents which included site agents, project engineer, contract administrator, contract manager and project manager who were working in various construction companies. From the questionnaire sent out, 268 questionnaires were found to be useful for data analysis, giving a final response percentage of 24.53%. Semi-structured interview has been carried out with 15 contractors to validate the result. The findings shown that 54.3% of the projects were used traditional procurement systems, 39.9% using design and build, 4.3% using management procurement, 1.1% of the refurbishment project using turnkey system and 0.3% using built-operate-transfer (BOT) system. Refurbishment projects using traditional procurement systems were performing well compared to the others. Besides, out of seven contractor challenges variables (independent) which are cash flow and financial, communication with client and consultants, client decision making, frequent change order by client, insufficient or discrepancies of contract documents, material price escalation and skill, expertise and experience tested were significantly correlated with at least one performance variable (dependent). The findings would be useful for future references, especially to those stakeholders who involved in refurbishment projects in Malaysia.
Keywords: Malaysia, Procurement system, Performance, Refurbishment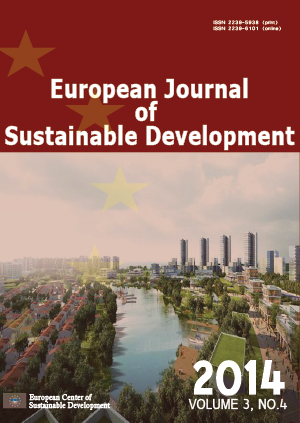 Downloads
How to Cite
Shah Ali, A., Cheong Peng, A. Y., & Chieng Ling, S. (2014). Managing Refurbishment Projects Through Selection of Procurement System: The Case of Malaysia. European Journal of Sustainable Development, 3(4), 311. https://doi.org/10.14207/ejsd.2014.v3n4p311