The Promotion of Psychological Well-Being of Students in School and the Integration of Family and Community
Abstract
This paper highlights the role that school, family and society play in the improvement of educational programs aiming the well-being and good health of children.
These factors have a key role to support the formation of children in their personal development and to seek positive and constructive values of living together. The family is a microcosm where children initially create affective ties and interactions. It is a step before the external macrocosm. It is a source of information, it is the model for a wider structure. It is the basic connection with the outside world. The school is a place where children spend a considerable part of their time and get knowledge and learn to know themselves and those around them. The society plays a decisive role, as the acceptance and integration in it contributes to their positive emotions and confidence to fulfill themselves. The relationship between the individual and the environment activates the cognitive processes and continuous assessment of the reality, which are attached to different forms of adaptation.
Health and well-being are therefore the result of human interaction that has certain biological particularity with his environment, in a social context that enables the activation and enhancement of individual competencies.
 Key Words: Well-being, children, family, school, society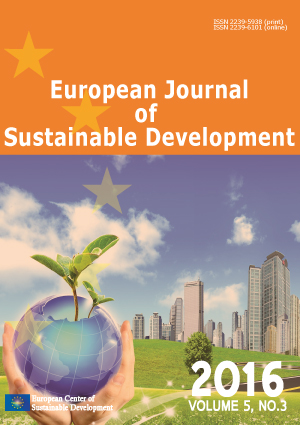 Downloads
How to Cite
Stefa, E. (2016). The Promotion of Psychological Well-Being of Students in School and the Integration of Family and Community. European Journal of Sustainable Development, 5(3), 311. https://doi.org/10.14207/ejsd.2016.v5n3p311