The Impact of Credit Risk Management in the Profitability of Albanian Commercial Banks During the Period 2005-2015
Abstract
Albanian Financial institutions face difficulties for a multitude of reasons but the major cause of Albanian banking problems are related to the credit risk. For the Albanian banks, loans are the largest source of credit risk as they are not active is trading derivatives. Banks objective is to manage credit risk in order to prevent losses and to maximize its profitability.
The main purpose of this research is to study if it exist a relationship between Credit risk management and profitability of commercial banks in Albania. The main indicators used in this study are Return on Equity, Return on Assets, Non-performing Loans Ratio and Capital Adequacy Ratio. The research collects data from the 16 banks operating in the Albanian banking system from 2005 to 2015. Statistical test are performed in order to test the relationship between the four indicators and the profitability of commercial banks in Albania. This study provides a contribution within the identification of credit risk factors that affect more the profitability of the Albania Banks and the finding of a scientific solution in order to manage the credit risk in a more efficient way.
 Key words: Profitability, Capital Adequacy, Return on Assets, Return on Equity, Credit risk management, Non-performing Loans Ratio.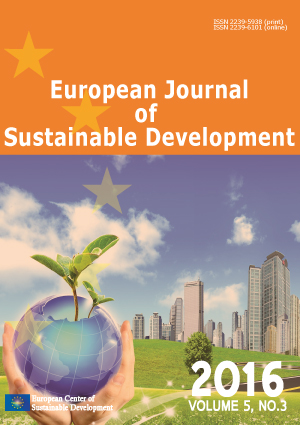 Downloads
How to Cite
Ndoka, S., & Islami, M. (2016). The Impact of Credit Risk Management in the Profitability of Albanian Commercial Banks During the Period 2005-2015. European Journal of Sustainable Development, 5(3), 445. https://doi.org/10.14207/ejsd.2016.v5n3p445