The Temporal Variation of the Change of Green Areas in Baghdad City for the Period (2011-2016)
Abstract
 The research explained the time sequence of green zones which give a reality of the special situation of these areas and the shrinking extent of their areas for the interest of built areas. The field study of the research revealed two types of spaces: the built space which represents all the spaces of concrete, iron, or asphalt nature penetrating the city environment that exist in the city, and the green space represented by the areas of individual characteristics and need a sustainable care for representing a living organism with requirements that should be provided so that they take their space in the city. The research revealed a decline in the area of green zones which is caused by the annual increase of population size, the increase of demand over the residential supply and also the increase in the size of middle and small industries on the account of green lands. Also, the field study of the research showed that there are two functions controlling the use of green zones, one of them of closed nature that is only used by the concerned one, especially sports stadiums of all kinds and swimming pools, and the other of open nature distributed hierarchically according to the importance of the city and its population size, representing entertainment and recreational areas for all people. As for the per capita share in Baghdad city of green zones in their special and general total, it is (0.02m2/people) which is very low when compared to the planning standard associated with hot areas as in the case of Baghdad city, where it should be (12m2/people). 
Hypothesis of the Research: The nature of the climatic conditions, the lack of water availability and the weakness of the local authority in its interest in this use resulted in the decline of the green zones in Baghdad city.
Aim of the Research: The research aims at shedding the light on the phenomenon of green zones, tracking the years that give reality to the situation of these areas, the shrinking extent of their areas in favor of built-up areas, the poor attention, and the lack of attention to this decline by local authorities.
Method of Research: The researcher used the descriptive and analytic method in writing the research.
Research Population: The researcher selected the green areas in Baghdad city as the research population and sample.
Methods of Data Collection: The researcher relied on the field study and Baghdad Municipality as well the Ministry of Planning in collecting the data.
Statistical Methods Used in the Research: Simple statistical methods were used to extract the areas of green zones through the data obtained from Baghdad Municipality and the Ministry of Planning. 
Keywords: green zones, green areas, Baghdad Municipality, orchards, nurseries, per capita share, and agricultural areas.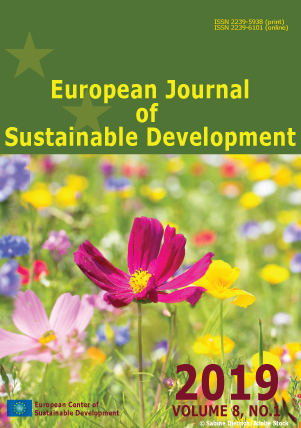 Downloads
How to Cite
Dawood, I. T. (2019). The Temporal Variation of the Change of Green Areas in Baghdad City for the Period (2011-2016). European Journal of Sustainable Development, 8(1), 211. https://doi.org/10.14207/ejsd.2019.v8n1p211