The Role of Environmental Law Education for Sustainable Development
Abstract
National imperative of sustainable development is a strategy that combines into one social, economic and environmental policies. First of all the environmental legal education should aim to prepare people for life in an innovative type of society. To achieve this goal of environmental and legal education we should be reoriented to form a human ecological and legal culture and eco-innovative type of legal thinking and a willingness to innovative type of environmental and legal action. The successful solution of this and other challenges requires science foundation, including environmental law science.
 
Keywords: law, environmental legal education, sustainable development, environmental safety, ecology, responsibility, ecological culture, legislation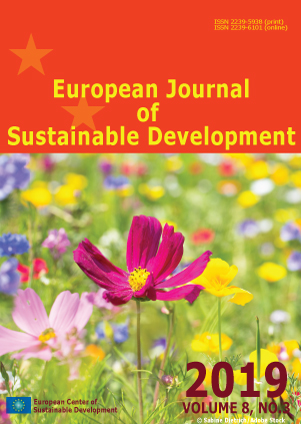 How to Cite
Audzei, H. (2019). The Role of Environmental Law Education for Sustainable Development. European Journal of Sustainable Development, 8(3), 79. https://doi.org/10.14207/ejsd.2019.v8n3p79

This work is licensed under a Creative Commons Attribution-NonCommercial 3.0 Unported License.
Authors of articles published in the European Journal of Sustainable Development retain copyright on their articles. Authors are therefore free to disseminate and re-publish their articles, subject to any requirements of third-party copyright owners and subject to the original publication being fully cited.  The ability to copy, download, forward or otherwise distribute any materials is always subject to any copyright notices displayed. Copyright notices must be displayed prominently and may not be obliterated, deleted or hidden, totally or partially.